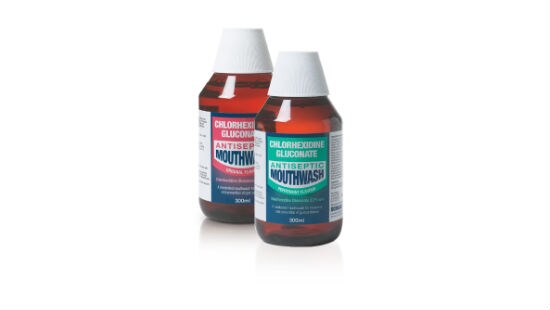 Chlorhexidine Mouthwash
Effective treatment and prevention for oral hygiene. Chlorhexidine Gluconate Mouthwash is firmly established as the mouthwash of clinical choice. It is the proven, prescribed and recommended treatment for gingivitis and oral hygiene.
Product Details
Highly effective 0.2% Chlorhexidine Gluconate mouthwash, ideal for immunocompromised patients.
Formulation of choice for dentists and doctors
Two pleasant tasting flavours - Original and Peppermint
Licensed by the Medicines and Healthcare products Regulatory Agency (MHRA) in the UK and Health Products Regulatory Authority (HPRA) in Ireland, providing assurance of safety and efficacy
Broad spectrum efficacy via Chlorhexidine Gluconate - effective against a wide range of both Gram positive and Gram negative bacteria, yeast, fungi and viruses.
Therapeutic indications
Chlorhexidine Gluconate Antiseptic Mouthwash is an antimicrobial solution which inhibits the formation of dental plaque. It is indicated as an aid to the treatment and prevention of gingivitis and in the maintenance of oral hygiene, particularly in situations where toothbrushing cannot be adequately employed (eg following oral surgery or in physically handicapped patients). It is used to promote gingival healing following periodontal surgery or to manage recurrent oral ulceration. Additionally it is useful in the treatment of denture stomatitis and thrush.
Posology and method of administration
Children, adults and the elderly.
Chlorhexidine Gluconate Antiseptic Mouthwash should be used as required up to twice daily.
Rinse the mouth thoroughly for about 1 minute with 10 ml. Prior to dental surgery, the patient should be instructed to rinse the mouth with 10 ml for 1 minute. In the treatment of gingivitis a course of about one month is recommended (ie two bottles). For denture stomatitis cleanse and soak the denture in solution for 15 minutes twice daily. In the case of aphthous ulceration and oral candidal infections, treatment should be continued for 48 hours after clinical resolution.
Active Ingredient
Chlorhexidine Gluconate 0.2% w/v
Excipients
Ethanol
Sorbitol
Macrogol glycerol hydroxystearate
Original Flavour: E2309 10 N1
Peppermint Flavour: E1640 1 N1
Ponceau 4R
Purified Water
Shelf Life
Two years.
Do not store above 25°C. Store in the original container in order to protect from light