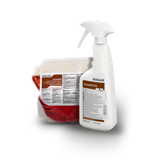 ZURICH – October 23, 2013 – Ecolab introduces Greaselift™, an innovative, non-caustic and biodegradable kitchen degreasing solution that has the power of caustic degreasers, but does not require the use of protective gloves, goggles or aprons.
Greaselift's unique chemistry promotes a safer working environment by eliminating the risks associated with the use of caustic degreasers. The product foams, which provides vertical cling when cleaning areas such as vent hoods, grills or ovens. Greaselift does not produce flashback or noxious odours when sprayed and is safe to use on aluminium surfaces.
"Greaselift's powerful and biodegradable formula is ideal for cleaning commercial kitchen equipment effectively," said Nicolas Granucci, Ecolab vice president of Marketing, Europe. "The solution is as powerful as corrosive degreasers and will help kitchen staff degrease areas without the need for cumbersome personal protective equipment."
Ecolab's non-caustic Greaselift is now available in a ready-to-use formula. In early 2014, Greaselift will be available throughout Europe as a concentrate. This concentrated dispensing method is designed to minimise product packaging; reducing plastic waste by 97 percent compared to other degreasing methods available in Europe.

About Ecolab
A trusted partner at more than one million customer locations, Ecolab (ECL) is the global leader in water, hygiene and energy technologies and services that protect people and vital resources. With 2013 sales of $13 billion and 45,000 associates, Ecolab delivers comprehensive solutions and on-site service to promote safe food, maintain clean environments, optimise water and energy use, and improve operational efficiencies for customers in the food, healthcare, energy, hospitality and industrial markets in more than 170 countries around the world.
For more Ecolab news and information, visit www.ecolab.com.