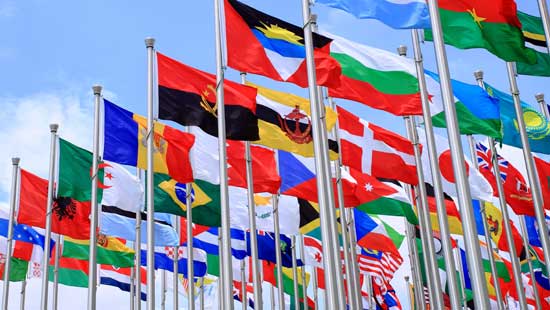 Building Global Reach
In the 1950s, Economics Laboratory (EL) began selling its cleaning products beyond the U.S. market, largely to serve U.S. hotel customers who were expanding internationally. In later decades, the company accelerated its world-wide reach through strategic acquisitions. Key developments in the company's steady march to build a global business – now in more than 170 countries – are highlighted in the following timeline.
Early 1950s
Inquiries for products come from Canada; an Institutional salesman in Buffalo, New York, begins to service a few accounts in Canada.
1955 Sufficient business in Canada allows Economics Laboratory (EL) to form a sales territory; Canadian manufacturer handles product production.
1956 First European subsidiary, Soilax A.B. Sweden, opens door for expansion in Europe. The Sweden subsidiary was initiated when the general manager of passenger flight services for the Swedish airline SAS discovered EL while visiting the SAS flight kitchen at New York's JFK airport. He was so impressed with the company's products that he offered to put up $2,000 for 10 percent of a new EL venture in Stockholm. EL in turn invested $18,000 to establish its first European subsidiary. Under the leadership of Fred Lanners, who would later become CEO, the company quickly expanded into Denmark, Norway, Belgium, England and other European markets. The name Soilax was chosen for international subsidiaries because it was easier to pronounce and translated better than Economics Laboratory.
1956 Economics Laboratory (Canada) Ltd., is formed as a fully owned subsidiary.
1957 International division is formed.
1958 An EL salesman moves from New York to Mexico City to service U.S. hotel chains. Soilax de Mexico is established, followed soon by subsidiaries in Venezuela and other Western Hemisphere countries.
1962 EL establishes a subsidiary in France.
1963 EL acquires an Italian company as part of the Klenzade acquisition.
1963 EL products are distributed through direct exports as well as 10 subsidiary and 15 distributor operations.
1963 Construction begins in Stockholm on the first plant outside the Western Hemisphere.
1969 International division contributes healthy earnings through 27 wholly owned subsidiary operations, 50-percent-owned companies in Brazil and Japan, 11 licensees and numerous distributors in the Caribbean and Southeast Asia, including in Australia, New Zealand and Japan.
1970 International sales exceed $30 million in 40 world markets. European satellite headquarters in Brussels, Belgium, guides efforts in 15 countries.
1977 Headquarters offices are established in Latin America and Hawaii.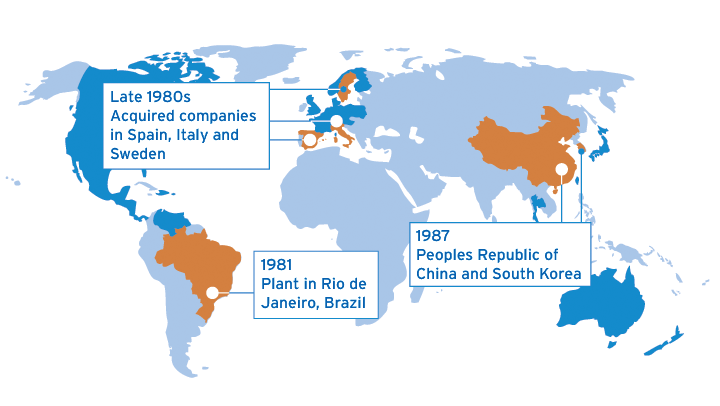 1980 EL conducts business in more than 50 countries.
1981 EL completes plant in Rio de Janeiro, Brazil.
1986 Economics Laboratory changes its name to Ecolab and Ecolab is listed on the New York Stock Exchange. Together, these two changes provide worldwide identification and visibility to global investors.
1987 Company launches joint venture in Peoples Republic of China; begins operations in South Korea in anticipation of the 1988 Olympic Games.
Late 1980s
Ecolab acquires Deterquimica, S.A., of Spain; Elton Chemical S.p.A, of Italy and Alkalion A.B., of Sweden, all offering chemistries for laundry and warewashing.
1989 Ecolab has employees in 29 countries.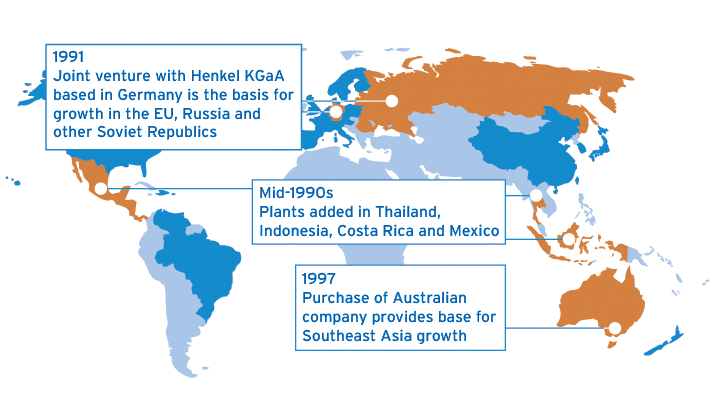 1991 Strategic joint venture with Henkel KGaA, called Ecolab-Henkel and based in Düsseldorf, Germany, positions both companies for growth in a newly united European Union, as well as Russia and other Soviet republics. The joint venture's combined European sales of products for institutional and hospitality cleaning, sanitizing and maintenance is $750 million.
1991 Joint venture agreement with Henkel transfers ownership of Henkel's Latin American and Asian cleaning and sanitizing operations to Ecolab.
1994 Twenty-two percent of Ecolab's net sales originate outside the United States.
1992 Ecolab launches its "Circle the Customer – Circle the Globe" strategy, emphasizing its intention to become a worldwide leader in its core businesses.
Mid-1990s
Plants are added in Thailand, Indonesia, Costa Rica and Mexico.
1997 Ecolab gains a location from which to expand in Southeast Asia with purchase of Melbourne, Australia-based Gibson Chemical Industries Ltd., manufacturer of cleaning and sanitizing products for the Australian and New Zealand institutional, healthcare and industrial markets.
1999 Ecolab has operations in 38 countries.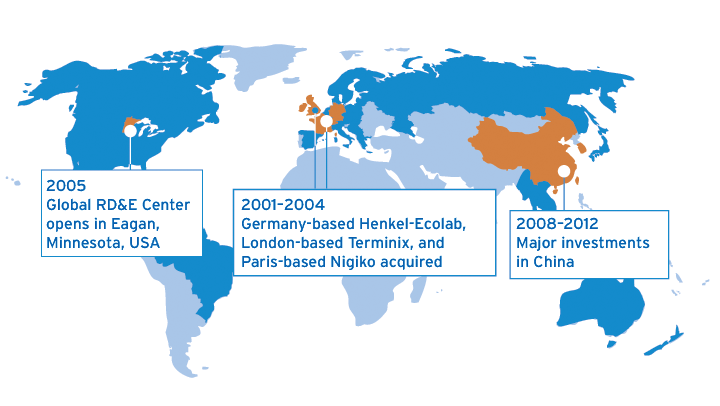 2001 Ecolab purchases remaining 50 percent share in the Henkel-Ecolab joint venture, which has expanded to include operations in more than two dozen European countries and annual sales of approximately $869 million.
2002 Ecolab acquires London-based Terminix Ltd., which provides pest elimination services throughout the United Kingdom and the Republic of Ireland. The acquisition provides a strong start for the company's Pest Elimination business in Europe.
2004 Ecolab acquires Nigiko, a Paris-based firm providing pest services throughout France.
2005 Global Research, Development and Engineering (RD&E) Centre opens in Eagan, Minnesota.
2008 Ecolab's European headquarters are located in Zurich, Switzerland.
2008 Ecolab aggressively begins building operations in China. From 2008 to 2012, it invests $150 million in Chinese markets, adding plants in Nanjing, Suzhou, Shanghai, Guangzhou and Taiwan, as well as its largest production plant in China, in Taicang, which opens in 2012.
2009 International markets contribute 47 percent of total Ecolab sales of $5.9 billion.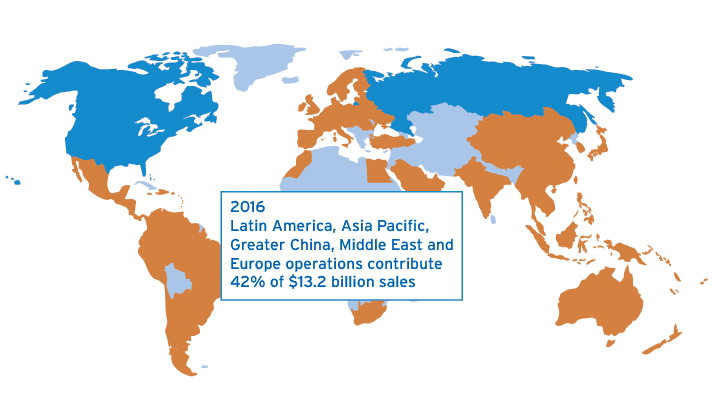 2011 Ecolab acquires Nalco, the world's leading water management company. Nalco brings with it a well-established and wide-ranging global presence.
2012 Ecolab acquires Champion Technologies, which has employees and offices around the world serving customers in the oil and gas industry.
2015 Ecolab acquires Jianghai Environmental Protection Co. Ltd., expanding its water treatment business in China.
2017 Ecolab acquires Laboratoires Anios at a total cost of $800 million. Based in Lille, France, Anios is a leading hygiene and disinfection products manufacturer primarily for the healthcare market.
2019 Ecolab acquires Lobster Ink, a leading provider of end-to-end online customer training solutions. It provides Ecolab with an ability to meet the unique training needs of hospitality and foodservice companies in 130 countries globally.